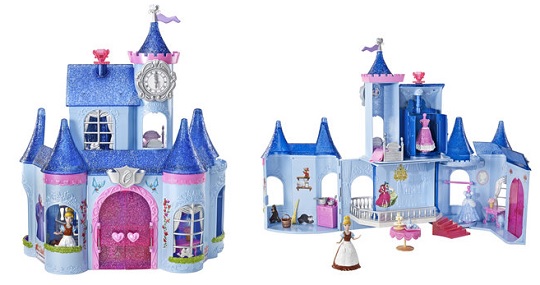 Your child's Disney Princesses need a home and you can get one for them for £29.99 at Toys R Us. This deluxe, super cool Disney Princess Cinderella MagiClip Castle was £49.99 but Toys R Us has reduced it by £20.00, lovely.
The beautiful Disney Princess Cinderella Magi-Clip Castle is a fairy tale dream home for your child and her Disney Princesses. It opens up to display five different areas so there is lots of space for a princess to play in. The cool clock tower turns to reveal Cinderella's attic bedroom where, with a turn of a dial on her dressing screen, her bird friends reveal her beautiful pink gown, awesome.
The play set includes loads of added extras. The castle is filled with furniture plus you get a Cinderella mini doll included. There are also three MagiClip fashions plus accessories in the play set.
Cinderella, the Disney Princesses and your little girl are going to love playing in their super stylish new home!