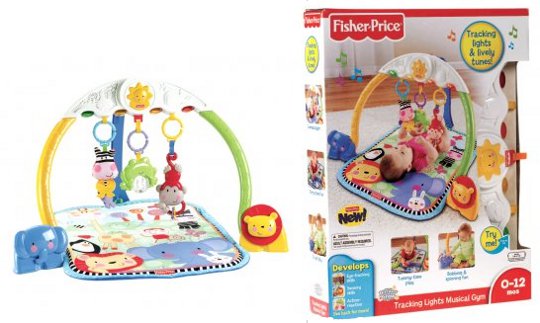 There's a new musical gym recently added to the Fisher-Price range. It's the Discover 'n Grow Tracking Lights Musical Gym (£39.99) and it's suitable for children from 0 – 12 months old.
There's no ground-breaking design to this play gym, but it has fun and funky features that entertain babies and regressing older siblings alike.
To start with,  you have the tummy-time mat which has a gorgeous bright and bold design with smiley jungle animals on it. The mat has links for either the included toys or for you to add your own to encourage baby's tummy time. The mat is padded and very nicely finished.
The activity arch is a normal arch, with a support column providing a sort of 'third leg' which is quite unusual, but oddly unobtrusive. This 'leg' can be folded in so that it is parallel to half of the main arch, meaning it can pack away quite easily, in a flat space.
The arch has three loops with a high contrast zebra with clackers, a frog with a roller ball with beads and a monkey with what they call beads – two plastic rings that rattle a little.
The feet of the arches have an elephant and lion at each end. The lion's head spins turns round and the elephant's head bobs up and down, making them part of the 'fun' rather than just functional.  The top of the arch has a string of lights which light up as the music plays, with the idea that babies will follow the tracking lights.  When baby pulls on the middle hanging toy, which we put as the zebra to bring it closer to my 3 month old (who doesn't pull it herself yet) the music starts playing and the lights start tracking.
The idea with this is kind of Pavlovian in theory: the baby is meant to learn that actions lead to results, i.e. pull the toy, music plays. I suppose it does do that.
All in all the Discover 'n Grow Tracking Lights Musical Gym is a very nice toy for young babies, particularly because it isn't overwhelming in its options. There's enough to keep them busy, and the music plays in very short bursts, and has volume control options, but it's not a cacophony of activity.
In true Fisher-Price fashion, it is a well-made, good quality product that most babies should enjoy.