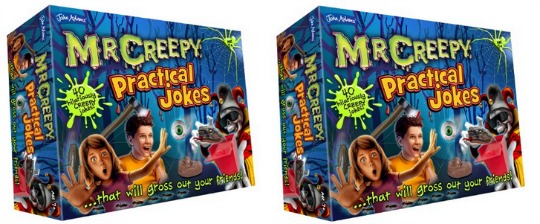 This is yet another one of these toys that the kids are moaning for,  due to the fact it is featured on every ad break between their cartoons. I don't know about you but when it comes to toys that contain things that "run out" I begrudge paying a lot for them. This Mr Creepy Practical Jokes set costs £10.99 from Smyths and £10.48 at Tesco Direct. Go over to Amazon or Asda and you can pick this up for only £5.99.
The Mr Creepy Practical Jokes set is an ideal gift for those children that are at that awkward age. You know nine, ten years old. Everything is either babyish or too grown up. This is a bit of fun, with a creepy, gross theme that ALL children buy into.
Your child will entertain you for ages with this set as there's forty jokes for them to perform. Like Black Spiders, Glow In The Dark Vomit, Rattling Rattle Snake Eggs and Gas Mask. Can't say I am bowled over by the thought of the vomit!
You can collect Mr Creepy Practical Jokes from your local Asda store for FREE or pay £3. If you are buying other items or want to buy two of these sets, then Amazon is a good shout as you get FREE Super Saver delivery when you spend £10+.