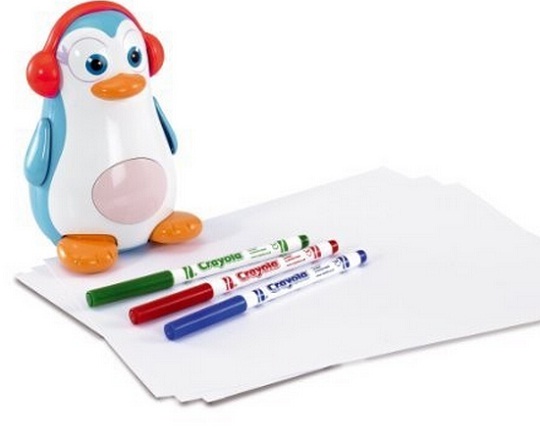 Here's a cute little penguin to help inspire little ones to get creative, and to get drawing. The penguin draws out a chosen picture. It's been reduced by Debenhams, down from £28 to £12.50 (it was first reduced to £15.80). Delivery won't cost you anything if you can collect instore.
You can create pictures, games and puzzles, with the Crayola Doodle Penguin. Doodle Penguin loves drawing, and has one hundred different things to draw for you. Simply pop in a pen, select what you want her to draw, and off she goes. You can get her to draw loads of pictures for you to colour in, from animals and vehicles, to princesses and knights.
Your penguin friend can also doodle spirals, draw numbers and clock faces, and make dot to dot pictures for you. She can even make mazes for you to complete, from easy peasy ones to totally tricky ones. Doodle Penguin comes with three pens and ten sheets of paper, to get you started. Crayola Doodle Penguin is a great toy for encouraging creative and imaginative play.
Here's what one customer reviewer had to say on the website "It's very clever how the penguin works. My 2 year old niece sat fascinated watching it slide around the piece of paper leaving a drawing behind. The only tricky bit is getting the pen out after it has finished, which is not easy!"