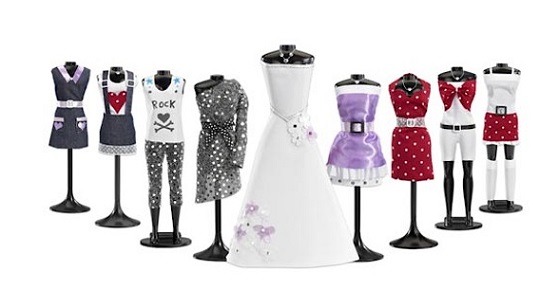 The Toy Shop really amazes me, they always seem to have the most amazing deals on offer. I found this today, the Crayola Catwalk Creations, which is a really cool set for kids to create their own fashion designs. It was £22.00 but they've now discounted it by 50% to just £11.00, super.
Kids can create their own fashion range like a real designer with the Crayola Catwalk Creations kit. They'll find all the tools and materials they need to bring their style ideas to life inside this cool craft set. The set is a great way to encourage and develop creative skills and the kids will end up with real results that you can proudly display on the mannequin.
The bumper Catwalk Creations kit includes a mannequin with three interchangeable body parts, five sheets of patterned fabric, four sheets of printable fabric, two plastic belt buckles and five 30cm pieces of ribbon. There are mini plastic clothes pegs and velcro strips to help put it all together along with fabric markers, a sheet of gem stickers, a sketch book and much more.
Happy designing!