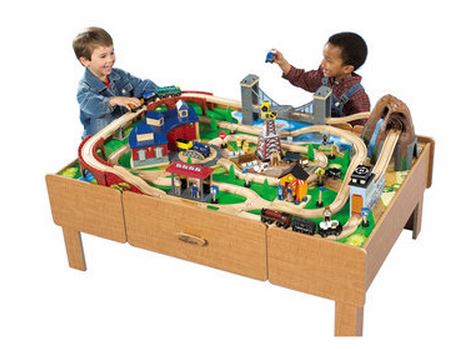 Toys R Us have the City Train Table and Railway Set on offer at half price for £124.99, reduced from the regular £249.99.  A few of the HUKD commenters have bought this table for £99 - last year's half price, but it seems this is perhaps a new price, and so half price is a little more. Either way, it doesn't seem to be available anywhere else, at this price or otherwise.
This playtable will keep the little ones entertained for hours - a friend has one that takes up most of her living room, but the children do spend hours at it!
The playtable has a wooden frame, 2 drawers and a decorated playboard with a wooden railway layout and includes a table, baseboard, trees, 2 trains with carriages, a car, truck and helicopter and a hole load more.
There are over 7 metres of track and all manner of stations, tunnels and bridges included, which I think is pretty great, especially since it's compatible with both BRIO and other Wooden Thomas trains, if you already have those. This train table also features electronic lights and sounds although I'm sure those aren't essential.
Thanks to masekwm at HUKD