Childrensgiftideas Voucher Code

I've found another cute little children's toy boutique, it's called Imagination Station, and you can find it at childrensgiftideas.com.  They're offering PlayPennies parents a 10% discount, when you use the unique voucher code below!
Click here to use the Childrensgiftideas voucher code online
Voucher Code: PP2189
Discount: 10% off
Expires: 21st December 2010
The Childrensgiftideas voucher code seems to work on anything on their site.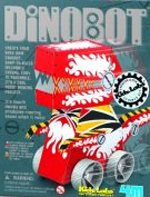 I was having a browse around, and I was attracted to the section on children's craft kits. I've always loved arts and crafts, ever since I was a little kid. Now, I'm a bit older and the lolly sticks don't appeal as much... but this build your own dinosaur robot does! It's only £7.76.
But I'm still starting to collect lolly sticks and yoghurt pots, so I can build up a nice collection of craft items for when my little girl is older. I am a hoarder, I know!
This magic kit looks like fun too! It's priced at only £7.76, so pretty reasonable. I remember I had a magic kit when I was little... I loved my magic wand! I used to torture my family by making them sit through the same magic tricks over and over and over...