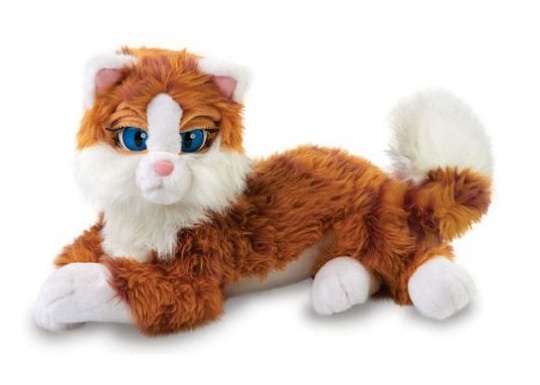 If you're can't get the kids a real kitty then maybe you can make it up to them with an interactive fluffy toy one. Cherry the Cat miaows and does all sorts of other things just like a real cat. She was £59.99 but is £23.68 at Amazon today so you'll be saving a whopping £36.31 (61%).
Cherry the Cat is pretty life-like, she makes real movements such as blinking her eyes and twitching her ears, she miaows and makes chewing noises when your give her the fish biscuit that comes with her. If she's not hungry, she will refuse the food. She also loves attention, if you stroke her back she swishes her tail, miaows and purrs happily. She even gets scared, when she hears a loud noise she closes her eyes, her ears go forward and her body trembles, amazing.
When it's time to sleep Cherry the cat swishes her tail and starts to close her eyes, drifting gently to sleep. You can even hear her little snores.
The set includes a brush and fish biscuit accessories. Cherry is soft and cuddly with no restricted movement and the random functions mean play is always different.