Chad Valley Sprinkler Hopscotch £4.99 @ Argos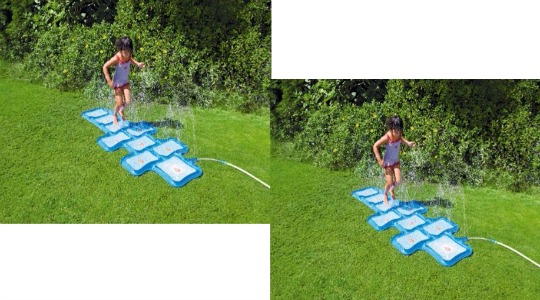 Oh me, oh my! This looks like so much fun. Chad Valley Sprinkler Hopscotch, it's that fun hopping, jumping game from the playground but with water thrown into the mix. I gotta get me one! The kids will be slipping and sliding with it but best of all they will be giggling like mad. Argos have reduced it from £9.99 to just £4.99.
The Chad Valley Sprinkler Hopscotch attaches to your garden hose and soaks your kids as they jump on it. Sounds awesome! I am sure adults can have a go too, and if I manage to bag one for the kids then I am SO having the first go.
It's as simple as taking it out of the box and sticking the hose on by the looks of it. That's my kind of toy, when that sun comes out you need to make the most of every second. Plus you just fold it up for storage.
The reviews are really good for this garden water toy and I can see why. Chad Valley have revamped a classic game into a hilarious, fun game for the whole family.
You can Reserve and Collect the Chad Valley Sprinkler Hopscotch for FREE from an Argos store or pay £3.95 to have it delivered.