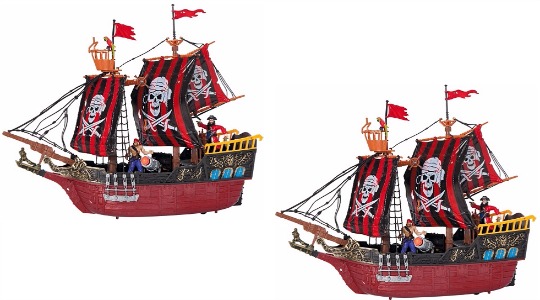 I am always on the lookout for toys that have quite a mass appeal, What for? For party presents. When you have as many kids as I do, the invites soon mount up, but I save £££'s by buying toys when I see them cheap. This Chad Valley Pirate Ship is a great example of the type of bargain I will bag for parties. It's reduced from £19.99 to just £9.99.
The Chad Valley Pirate Ship comes with two 2 moveable pirate figures, a treasure box and some other accessories. It features a cannon that actually works and three missiles are included.
This play set looks well worth the £9.99 and the reviews would suggest so too. A fair few seem pleasantly surprised at how good it actually is for the money.
It's not recommended for children under the age of three years old as I would imagine that it comes with LOTS of little pieces.
You can Reserve and Collect the Chad Valley Pirate Ship for FREE from an Argos near you or pay £3.95 to have it delivered to your front door.