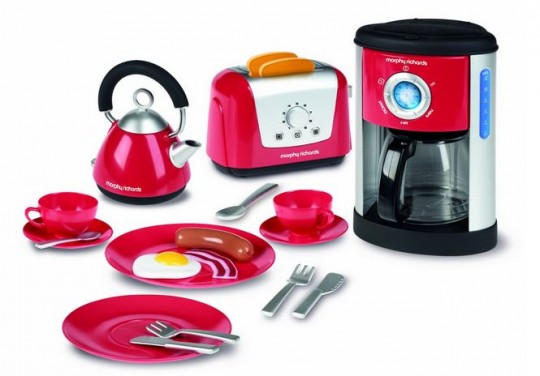 Is it just me or do you get a sudden influx of party invites at this time of year? My kids most certainly do, and I am often left scratching my head as to what to buy. I do keep a "party present box" where I buy cool toys that I find as bargains and it saves my bacon time and time again. I often pop things like this Casdon Morphy Richards Toy Kitchen Set. It's only £11.63 at Tesco Direct/Amazon.
The Casdon Morphy Richards Toy Kitchen Set contains coffee maker, a kettle with a level gauge indicator, a toaster with pop-up toast, some crockery, cutlery and  play food. You can put water in the coffee maker to make it more realistic but I cannot promise that this is a good idea, as you know what children can be like with water.
It is suitable for children aged three to eight years old and would make a lovely birthday present.
If you order it from Tesco Direct then you can Click and Collect for FREE from a Tesco near you or pay £3 for delivery. You can add it to an order totalling £20 or more to get it FREE from Amazon or pay £3.30 if buying it on it's own.