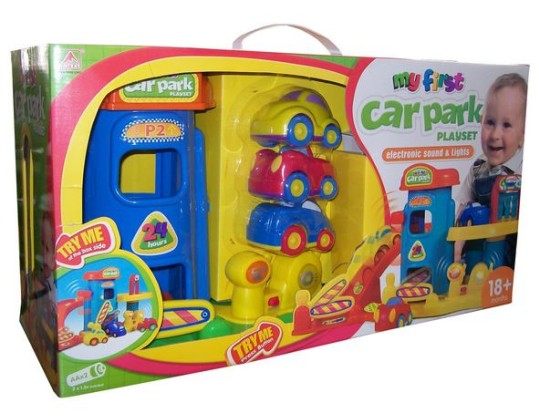 The Range has a special offer on a fun looking playset, the My First Car Park Playset, reduced from £24.99 instead, to £14.99.
Kiddies with parking garages are so sweet. My girls - yes, girls, don't let anyone tell you otherwise - loved their parking garage, both the big wooden one, and the supermarket cheapy.
There's painfully little information on this playset, other than that it makes electronic sounds and lights, and requires 2xAA batteries, which are included in the set.
This set is suitable for children 18 months and over.
From the pictures we can deduce that it it comes with three cars,  a car lift and limited parking space - like in most real garages. The booms raise and lower, again, really going for the realism here.
Standard delivery is £4.95 on orders under 30kg, which this clearly is, but there doesn't seem to be any free shipping option at all.
There's so much fun and fabulous stuff at the range though, that having a browse around a store if you have one in the area is well worth it.