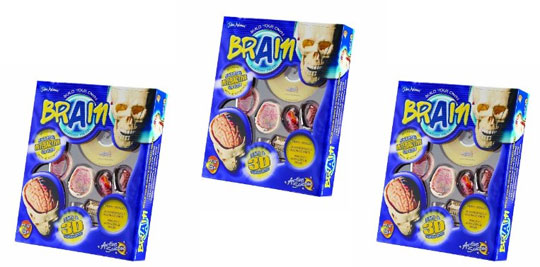 Amazon are selling this Brain Anatomy Model, with interactive CD, for £5.59 instead of its original £12.99.
My mum has a love for science and, as a result, I was brought up to be inquisitive about anatomy, of both plants and animals, and remember trips to our friendly butcher to pick up sheep eyes, and one time an ox heart, for disection...just because it was something interesting to do!
I've done the same with my children and, the older two at least, were totally enthralled and engrossed (rather than grossed out) by the televised post mortems carried out by the rather fabulous Dr Gunther von Hagens - he properly looks like the sort of guy who'd try to put together his own monster a'la Dr Frankenstein.
Should this sound a bit like your household, or someone in your extended family, (mine can't be the only one interested in science, biology and anatomy) then you might want to take a look at the Brain Anatomy Model.
You'll build your own 3D brain model, watch the accompanying video clips and undertake the 10 activities outlined on the CD ROM, along with playing the Catch the Robot game which will help to improve your short term memory.
I think this sounds pretty awesome, which leads me to ask:
Is my family the only one that thinks dissection lessons in the kitchen are a rather cool way to spend an afternoon or weekend morning?!
Thanks to wishihadadonkey (not for dissection purposes!) at HUKD