Boys Townsend Dual 20in Wheel Dual Suspension Bike £35 @ Asda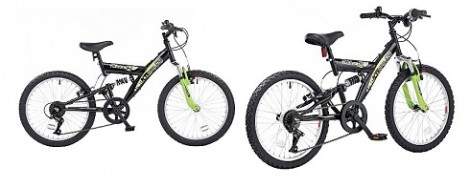 I still remember the incredible sense of freedom riding a bike gave me when I was a kid. Everyone needs a bike when they're a kid, well that's what I think anyway. Asda has reduced the Boys Townsend Dual 20in Wheel Dual Suspension Bike to half price, from £70 to £35.
What I loved the most about my bike, which was a two gear Raleigh Twenty, was the amazing way you could get up so much speed, so much faster than just walking. Back then of course you could jump on your bike and ride to your friend's house. The joy of being free of having to rely on mum or dad to drive you around!
It is a shame that my son won't know that freedom, not while we live in car-congested London anyway. But with the increasing number of bike paths they have around here, who knows in a few years he might be able to ride about free as the wind. Already a huge number of kids at his school ride their bikes to school. So many that they are building another bike shed.
The Townsend bike has a 12 inch frame, and 20 inch wheels. It is in black and green and has an age range of 7 to 10 years. I don't really understand what all the technical stuff means, but for those that do here they are. The bike has "steel dual suspension frame; front and rear V type brakes; 6 Speed index gears with rotational shifters."
There's also 'sure grip' mountain tires and a chain guard.
Thanks to shadow1 at HUKD!