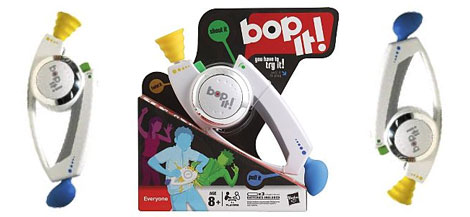 If you haven't played Bop It! before then you need to GET one!
For £10 (instead of £19.98) this would make a great stocking filler, or 'just because', Christmas pressie, and I can guarantee it will keep everyone amused and entertained for H O U R S on Christmas day and far beyond.
I can guarantee this because we have one - I bought it for my eldest a few years ago for Christmas and that was it, we were all bopping it and all trying to outdo each other's high scores.
There are four actions that you must perform in the correct order according to the instructions given to you by the Bop It!: twist it, pull it, BOP IT! (you wallop the middle bit for that) and the new shout it command.
There are over 1000 levels to play now and the more action sequences you complete correctly, the fast the Bop It! goes - if you can't keep up or you get a command wrong then YOU LOSE!
You can play Bop It! by yourself or with others in its party mode.
This is proper addictive fun - kids LOVE it and grown ups love it even more; GET ONE, for a tenner you really can't go wrong.
Thanks to perrioli over at HUKD.