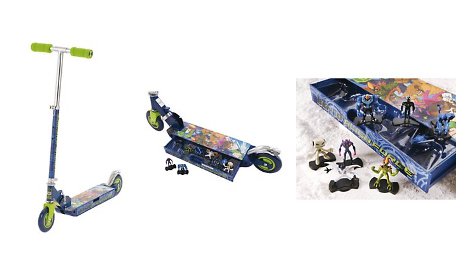 A Ben 10 fan in the house? How much do you think he would love the Alien Force Scooter? And how much would you love saving £29.00 on it? That's right – the Ben 10 Alien Force Scooter is just £20.00 at Littlewoods.
Last week I made a super loser comment to my eight year old nephew saying something about his cool Ben 10 shirt. I was scornfully reproached and given a swathing lesson in Ben 10 chronology. All I can really tell you about it, is that there was a bad guy, and then some years passed and something happened, but what I do know is that it's not wise to confuse the two!
So this may sound a little like an infomercial, but here it is: If you buy this Ben 10 Alien Force Scooter, you receive a fab hidden bonus! The Ben 10 scooter has a secret pull-out compartment (see the drawer in the footrest in the picture? That's it. Shhhhh!).
The secret pull-out compartment is filled with eight authentic Ben 10 alien figures.
This very sneaky-smart way of getting exercise out of your child aged five and over, has a colour printed footplate, and folds easily for storage. It also has a rear footbrake and an adjustable handlebar height of 74cm – 84cm.
Thanks to wookie4828 at HUKD