Barbie Castle £45, Little Tikes Playhouse £49 on Black Friday @ Asda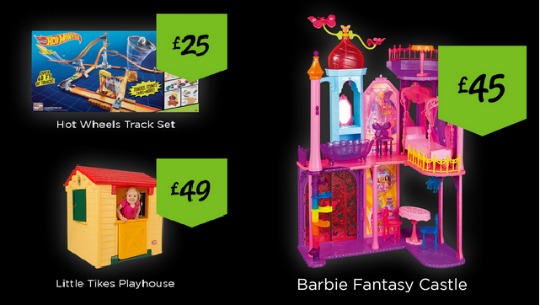 Asda have FINALLY revealed prices for the main Black Friday deals and the Toy deals are great!
The Barbie Fantasy Castle will be £45, and the Little Tikes Playhouse will be an amazing £49.
There is also a Hot Wheels Track Set for a fantastic £25.
Just as a reminder Asda's Black Friday deals are available for one day only, Friday 28th November. Offers are IN STORE ONLY and start at 8am. Items are limited to one per customer, and there are rumours that to prevent the madness that was last year's scramble for goods that they might have a ticketing and more efficient queung sysytem in place this year.
Here is the list of tomorrow's Black Friday deals at Asda that has been revealed, though they are promising more offers in store too:
Barbie Fantasy Castle - £45
Little Tikes Playhouse - £49
Hot Wheels Track Set - £25
Polaroid 40" TV - £139
Xbox 360 250GB Console with Halo & Forza - £99
Beats Solo Headphones - £79
Polaroid Tab 8" - £79
Call Of Duty Advance Warfare XBox 360 - £25
Further details of the products and a list of which stores are participating can be found on the Asda Black Friday pages here.
More information on Black Friday deals here.