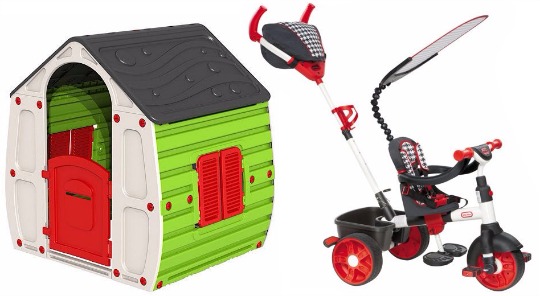 Yesterday we wrote about the fantastic savings in the massive toys sale at House Of Fraser, and I've been looking at the Outdoor Toys to see what bargains I can find. There's a cute playhouse that looks fab for under £45, and the a kids play tent for just £6.75! There are Disney toys, Nerf guns and Rebelle bows, loads of scooters and trikes to keep the kids active outdoors, and everything is reduced by up to 50%!
Prices start from just £2.25 in the outdoor toys section, and here are a few of the best buys that I could see:
These are a few of the outdoor toys that seem to have the biggest reductions, but there are more than 2000 toys sold by House Of Fraser, and worth this current offer there is up to 50% off ALL toys so it's well worth a look. I'm not too familiar with heelies and nerf guns and bows, but there were quite a few of those on offer too. Everything is free to collect from store as well, so take a look while this offer is on!