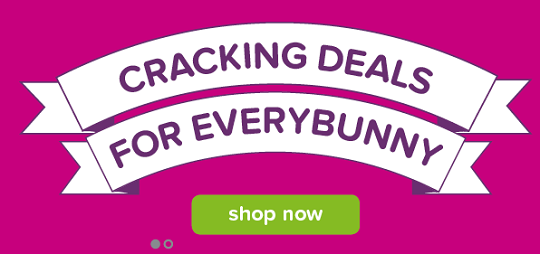 Kiddicare is offering a 3 for 2 offer on all their toys as part of their Easter promotion. Some of these are already discounted in sale and have had over 60% taken off so you are saving some rather lovely money on brilliant Easter gifts.
Some of the ones that stand out are the Kiddicare Bunny Rattle that's down from £4.99 to £1.99 and is in the 3 for 2, the Buzzing Brains 2 in 1 Piano N Drum set has had 52% taken off dropping it down from £12.50 to £5.99. Nice. Then there is the Buzzing Brains tea set that's reduced from £7.99 to £2.99 and also part of this offer.
Other ones that are below £2 include the Buzzing Brains baby rattle that was £4.99 and is now £1.99 and the Buzzing Brains Loader that was £2.99 and is now £1.19. You can get the Buzzing Brains Musical Activity tree for £9.99 instead of £19.99 and the Buzzing Brains Tiny Steps Walker has had £15 taken off the original price of £25.