20% Off Bathtime Buddies @ Sainsburys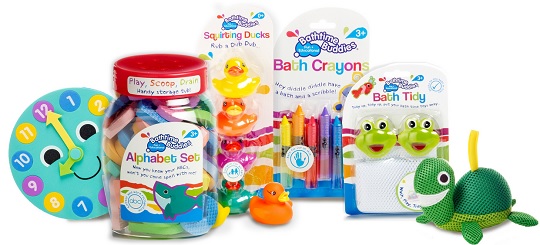 From the 20th of March head on over to the Sainsburys site or a Sainsburys store to have some bath time fun. They're offering 20% off Bathtime Buddies Squirting Ducks, Alphabet Sets and Bath Crayons, fun!
With new and improved brightly coloured squirting ducks, wet 'n' stick alphabet letters and soapy bath crayons bath time can now be something mums and tots look forward to with Bathtime Buddies. This cute bath time range has been raising smiles at bath time for the past 20 years and to celebrate its anniversary, the brand has taken on board feedback from parents across the nation in order to make the range even more fun and educational.
    Discount: 20% off
    Starts: 20 March 2013
    Expires: 10 April 2013
The new Bathtime Buddies range now features light, bright colours, a friendly new logo, colourful new Bathtime Buddies characters and fun rhyming phrases to keep little ones entertained long after bath time. With stimulating colours and shapes that encourage a healthy combination of learning and fun, this range is perfect for keeping little ones occupied in the tub whilst giving mum the confidence to approach bath time without the fear of tears and tantrums.
Take advantage of Sainsburys 20% off Bathtime Buddies until the 10th of April.