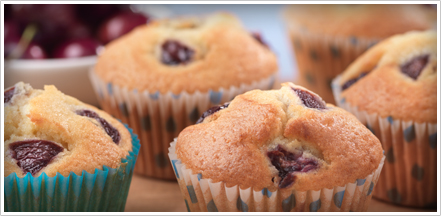 When I first received the Stork Easy to Mix Baking Liquid, it sat in my fridge for ages and I had no idea what I was going to use it for, and I was a little afraid of it, to be honest. One day I started making cupcakes when I realised I didn't have enough margarine, and up stepped the Baking Liquid – metaphorically speaking, of course.
So, what is it? Well, it's a 500ml squeeze bottle of liquid margarine, with a measurement guide built in to the packaging, and a recipe on the back.
The obvious pro's to this product are that you have liquid margarine on hand. You don't have to melt it, don't have to wait for it to warm up to room temperature, don't have to spend as much time creaming the butter and sugar.  It literally takes a few seconds to mix into your other ingredients for a smooth batter. You replace 100g or 100ml of Baking Liquid for 100g of butter or margarine and it's pretty simple. It has a long shelf life, but not crazy long – mine is okay for about six months from the date I received it, which is pretty standard for margarine, I guess.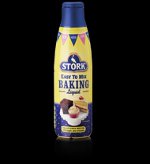 You can't use it across the board, however. Fiddly recipes that require you to mix this, then that and add it to the other bowl before stirring gently etcetera etcetera might not work with this margarine alternative, and you'll find it's too moist and may require extra cooking. Simple 'in one bowl and stir' recipes, however, work really well.
Where I have found the Stork Easy to Mix Baking Liquid excellent however, has been in icings. Over the jubilee weekend I made multiple batches of chocolate and vanilla cupcakes and the liquid is beautiful. It makes the icing really smooth, shiny and gorgeous. I also suspect I used less margarine (alternative) than if I'd used actual margarine, because along with the vanilla essence, mixed with icing sugar, it was already wet enough and mixed faster. The icing was delicious and I loved how it looked and felt – positively silky to the touch.
My main concern with the product was, as ever, the ingredients. What makes it remain a liquid? Well, the ingredients for the Stork Easy to Mix Baking Liquid are relatively standard. There are a few additives, but it's not as many as I initially suspected (hence being afraid of it initially!) You're looking at Sunflower and Rapeseed Oil, Water, Salt, Soya Bean Lecithin, Polysorbate 60, Soy Protein, Guar Gum, Xanthan Gum, Beta-Carotene, Potassium Sorbate, Citric Acid, Flavourings and Vitamins A and D.
The Good
It's so easy to use
Useful to have in the fridge for if you've run out of margarine or butter, as you're unlikely to use this for spreading on bread
Useful for people without an electric beater
I can't pinpoint a taste difference between chocolate cupcakes that are made with it and ones that are made without. Any flavoured cakes certainly have little to no taste difference. If you're used to using butter in your baking and now use this, you may notice a slight difference, especially in an unflavoured cake
Has quite a good shelf-life, so you don't have to use it up in a few days
They advertise it as being so easy, even kids can cook with it, but my two year helps me bake with normal butter, so I'm not sold on that. She is making a recipe using stork in the picture though
It does reduce preparation time, i.e in mixing up your batter
The Bad
It's a highly processed food substitute
It's not something you can use across the board and some cakes aren't going to handle the substitution very well
It can change the consistency of your biscuits and so on, making them a lot more crumbly
500g of Stork Margarine will cost you £1.09 at Sainsbury's. The Baking Liquid will cost you £1.59, so you're paying 46% more for it
The Verdict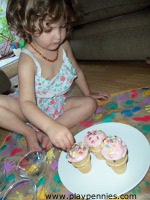 There are loads of positives and almost as many negatives. I guess it would be for each person to decide what's important to them and how they would use it. I wouldn't use it as a regular margarine substitute because of the price difference. I may decide to keep some in the fridge for when I'm low on or out of margarine, and I could be persuaded to always use it for icing, because I loved how it felt in a butter icing.
The main reason I wouldn't use it as a regular go-to is because I try to limit my families additive intake, and we're not so keen on the Polysorbate 60 in this list of ingredients.
If I was doing a lot of baking for someone else, i.e. school or a charity event, I may well be tempted because of the ease of use and time saving element, so long as I'd tried it in that particular recipe before.