YouTube Kids App Coming Soon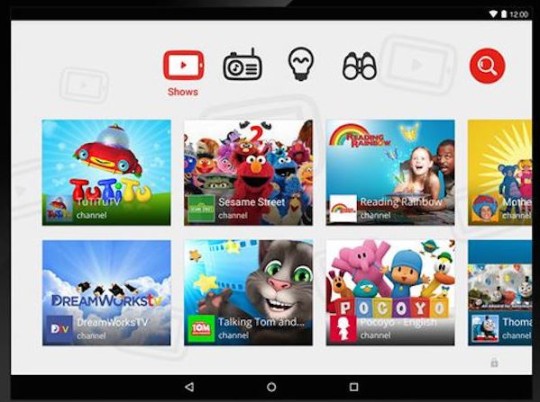 Well, it's finally happened. YouTube are releasing a kids app specially for younger viewers. I know so many parents who use YouTube instead of kids TV programs - even families who don't have a TV at all, and I'm sure this will be great news for them, because a current problem with using YouTube is that kids can click on any image and play the video, whether it's child appropriate or not.
The new YouTube Kids app, however, will have loads of functionality that will appeal to parents:
There's a TV icon which when clicked will display child-friendly shows, while the radio icon will let users play music videos for popular kids songs. The light bulb icon is for educational programs and the binoculars icon indicates an "explore" feature, which contains the top featured videos. Finally, the magnifying glass icon lets you search for all of the videos in YouTube Kids.
Children will be able to search a wide range of topics, and if the child writes (or there's a speech recognition function for those who can't read) something inappropriate, they'll be told to 'Try something else'.
Much like the Kindle Free Time* app, parents will be able to limit the screen time and control the settings with a password, which will be required to continue watching after the timer has run out.
What this doesn't have, which is something I really want for my children - I hope you're listening, YouTube! - is the ability to 'ban' certain programs, because even in the genre of 'kids TV' there's stuff that's appropriate for small kids, and stuff that's not.
Some of the shows you can expect to see  on YouTube kids are Sesame Street, TuTiTuTV, Reading Rainbow, Thomas The Tank Engine, Yo Gabba Gabba, Talking Tom, National Geographic Kids, Jim Henson TV, Pocoyo and Dreamworks TV. And apparently YouTube Kids will join the 'made for us' trend too, with shows only available to viewers on that platform.
YouTube Kids launches in the US tomorrow, and there's no definite date for a UK launch yet, but we're told it'll be later.
What do you think? Something you'll download for the kids? Join the discussion on our Facebook page.