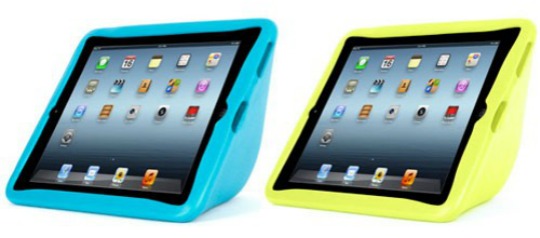 I wasn't sure what I was letting myself in for when I agreed to review the Griffin* SeeSaw but I breathed a sigh of relief when I realised that it's basically a tabletop stand for your iPad. The premise is deceptively simple. The SeeSaw turns the iPad 2, 3 and 4 into a stable yet portable workstation. Now that's a pretty clever idea.
Griffin Technology created the SeeSaw (£29.99) as a lightweight, portable case with a built-in carrying handle. It transforms your iPad into a personal or group tabletop workstation that is steady and stable for viewing, tapping and typing. Incredibly easy to hold, carry and use, it can quickly be switched between portrait and landscape orientation, retaining full accessibility to ports, cameras, speakers and controls. SeeSaw is also made of nonporous material, making it easy to keep clean. The SeeSaw is compatible with iPad generations 2, 3 & 4 and is available in pool blue or citron colours.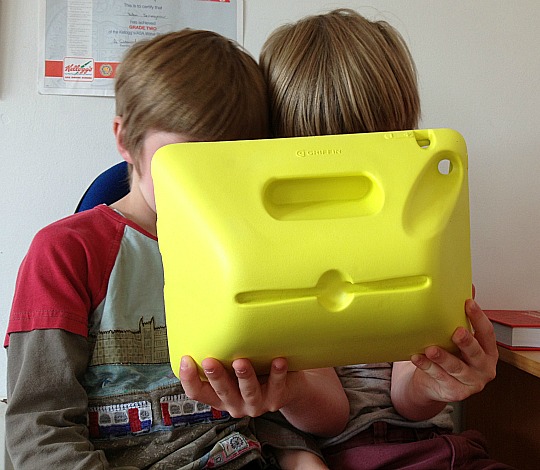 We loved this. It turned my husband's iPad into something that my kids could use with confidence. They used the SeeSaw while watching movies without having to create a mountain of pillows to keep the iPad propped up, and they were also able to use the iPad in comfort at my desk without hunching over or resting their chins in their hands. It's the sort of item that makes you wonder how you did without it, and I'd recommend it wholeheartedly to any parent whose heart flutters every time they hand their iPad to a small, clumsy person. I should add that the day we took our iPad out of this, one of my children accidentally dropped it on the kitchen floor and the screen cracked. Proof indeed that investing in one of these would be a wise move.

We also tried out Griffin's No. 2 Pencil Stylus (£19.99) which is a handy tool for writing, sketching and tapping on any touchscreen. It claims to modernise 'the most iconic writing instrument of all time' (that's a pencil to you and I) as a stylus that's compatible with all touch screens. The high-sensitivity rubber tip is designed to mimic a finger without leaving behind fingerprints or smudges. It has the same shape, length and weight of a classic pencil and its hexagonal cross section means it won't roll off a desk.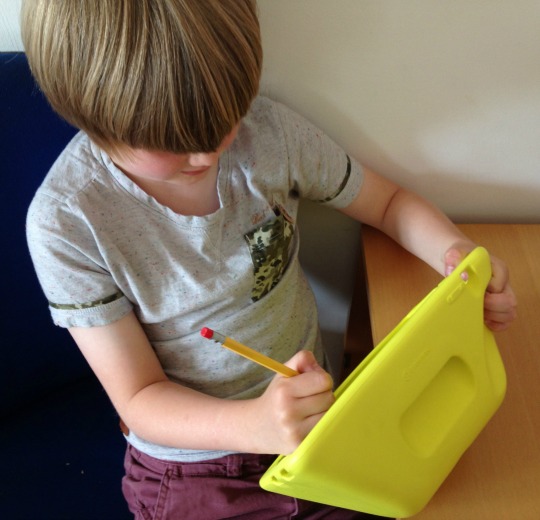 The stylus was of much less use to us than the SeeSaw, mainly because my children just don't have much reason to use a stylus. All the games they play on the iPad or on their kindles require nothing more technical than a finger, of which they have several. And fingers have the added bonus of being free! Having said that, the kids adored the look and feel of this, and it's the sort of thing that is never to be found in our house no matter where I leave it because they constantly swipe it to play with, using it as everything from a magic wand to a pretend spy pencil. If you have the need for a stylus then I imagine that this would be a pretty cool option, but in our house it was more of a gimmick than a must-have gadget.
For more information about Griffin Technology, visit www.griffintechnology.co.uk