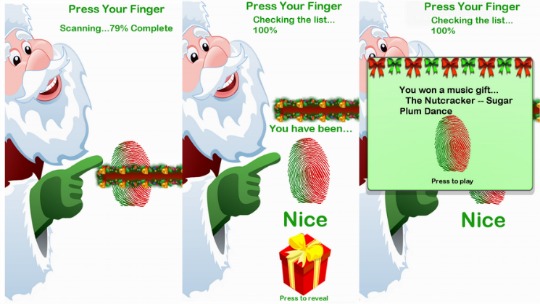 I like ALL things Christmas and I also like FREEBIES that's why I am going daft over this FREE Santa's Naughty or Nice Scanner Tracker App from Amazon Appstore. It looks like great fun for the whole family, especially the kids and is suitable for most Android devices. What better way to decipher whether the kids have been naughty or nice? Psst, you also get a wee freebie if you are found to be nice, a little festive tune or a game.
This app is really easy to use which means it'll suit a whole range of age groups. You just open the Santa's Naughty or Nice Scanner, then press your thumb against the screen. It will take a few seconds to scan and as it does a little Christmas tune will play. If you are nice then you will get FREE music or games.
There is a special Parent's Mode that ensures that it stays on nice, and you can do that by simply tapping Santa's nose.
All in all we think this is a nice little Christmas FREEBIE. Let us know what happens if you are found to be naughty!