I'm a bit of a traditionalist when it comes to photo frames but I'm s l o w l y warming to digital ones
Never come across eBuyer before? Fear not - they are a wonderful company to deal with and always been incredibly reliable whenever I've dealt with them (which has been a fair bit!).
If you've left Mother's Day gifts to the last minute (and you can't say we haven't been reminding you - it's THIS Sunday!) then this photo frame would make a fab pressie.
Simply put a selection of photos on to a USB flash drive (memory stick, call them what you will), plug it into the back and let the frame do the rest. It has an auto-rotate function and it's also wall mountable so you're not limited to just having it on a table or window sill. It also has a clock and calendar function too AND internal memory so you can permanently store up to 10 of your favourite images.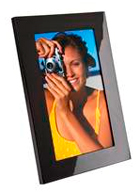 The more I think about these digital frames the more I like them - not only do they allow you to show more than one image at a time but they will ultimately save on photo paper and printing costs too.
Now, back to last minute Mother's Day panic (did I mention it was THIS Sunday?!) if you really are in a hole then order this before 8pm tonight, swallow £9.99 in delivery costs and it will be with you between 7 and 12 tomorrow. If you're in no hurry for Sunday then there are lots of other delivery options available.
Thanks to Tom Servo over at HUKD!