Today's guest article comes from the pen of Sally Huggett, editor of Limemag, a magazine for parents and carers of children with special needs. Tamsin wrote a similar article on sensory rooms at the start of the year, but this one comes with some practical advice from Sally, a mum in the field.
I have a little boy called Daniel who is three years old. He has Autism, Dyspraxia and Sensory Integration Dysfunction. The sensory issues he has means that he won't eat any food and survives on drinks prescribed by the Dietician. I have had to learn how to engage Daniel on a level that he is comfortable with, and with toys that don't scare him, whilst doing so on a shoestring. Sensory toys can be very expensive. But they don't have to be if you are willing to be resourceful.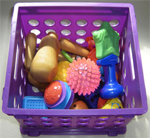 I have made Daniel a 'Sensory Box'. In it are all sorts of toys I have collected along the way. The number and variety is growing all the time. To start with I went to the local pet store. I bought a 'Wiggly Giggly' ball, that is meant for dogs, and it makes a funny noise as you roll it along the floor. Daniel is fascinated by the noise and loves this toy.
I also bought some chew toys (and washed them thoroughly before giving them to Daniel). The bumpy surface of these toys is great for children's tactile development.
The next unusual toy I found was in a local souvenir shop. I call it the 'ocean in a bag'. It is a small pouch filled with blue liquid with fish and turtles bobbing about in it. And when you pick it up it is very difficult to hold without rolling out of your hands and so offers a very amusing sensation and is visually very stimulating. This was a very inexpensive and fun toy to find.
Other great additions for a child with tactile defensiveness, are scarves made out of all different materials. These can be fun to play peek-a-boo with. I have a cotton scarf, a silk scarf, and a chiffon scarf. The chiffon one is slightly see-through which is fun for hiding behind. They all feel nice and different as you stroke them across your skin.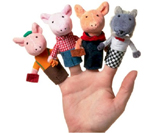 Another inexpensive toy that can afford hours of fun is finger puppets. You can find many different animals or characters, and if they are soft and furry they are nice to touch, and they are very vibrant and engaging and fun to use for storytelling.
Other inexpensive gizmos may include rainbow coloured plastic giant springs, pocket plastic magnifying lenses, expanding lattice balls, brightly coloured and shaped erasers and more items that can be found in many gift shops. You don't have to go to a special needs retailer to be able to put together your own 'Sensory Box.'