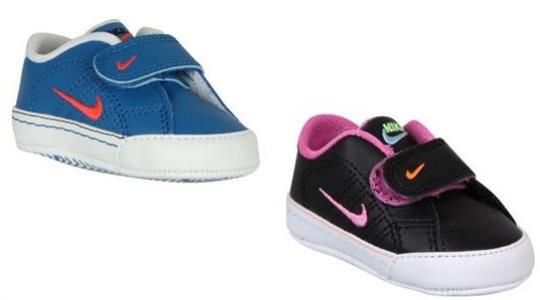 Oh boy, this is going to be a hard one for me to write as I am fighting myself. I just adore buying baby shoes. USC have a cracking sale on just now. With huge discounts on Children's Shoes, you can grab a pair for just £4.50. There's brands like Nike, Adidas, Puma, Replay, Converse and many, many more. If like me you love buying cool kicks for your little one then you really ought to click the link below.
I didn't even realise until recently but it's Sports Direct that own USC, so hopefully we will see super sales like this one again.
So what can you get for under £10? These Nike First Court Crib Trainers* for just £7.50, Puma Suede Evolution Trainers* from £9, Replay Upsal Crib Shoes* now only £7.
These Converse Side Zip Infant Trainers*start from just £11. It's always worth bypassing the sports shops and looking in fashoin outlets like USC to pick up those branded bargains. You might have known that USC cater for children, but now you do.
Delivery costs £3.99 or you can pay £2.99 to have it delivered to your local USC store for collection.