Down from £8.50, these funky camouflage slipper boots for boys are now £5.95 at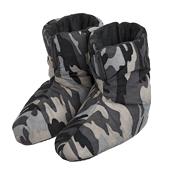 Debenhams, and this cosy dressing gown is £8.75, reduced from £12.50.
The dressing gown is only available in two sizes, age 4-5 or age 5-6, and there are three sizes of slippers still in stock: 6-7, 8-9 or 10-11.
Slippers have never been at the cutting edge of style, let's face it, but these camo slipper boots are in a different league. They're machine-washable due to the fact that they're 100% polyester, and they have a zip fastening for extra snugness.
With the current sub-zero temperatures I'm fast learning that kids who are cold are like kids who are tired or hungry. They're not going to tell you that they're cold or tired or hungry, no, that would be too easy. Instead they're going to whine and whinge and squabble and generally make your life a misery until you realise that there is, in fact, an explanation for the carnage, and either clothe them, put them to bed or feed them.
So we have a new rule in our house. Along with the one about putting your shoes in the basket by the door to avoid fraught mornings spent looking for shoes before the school run, you

have to rug up in slippers and dressing gowns to beat the big freeze. The more you whinge, the more layers I'm going to make you wear.
I love the look of these boots and the hooded, machine washable dressing gown with fetching red trim is pretty stylish, too. Both perfect for keeping your lads cosy but cool.