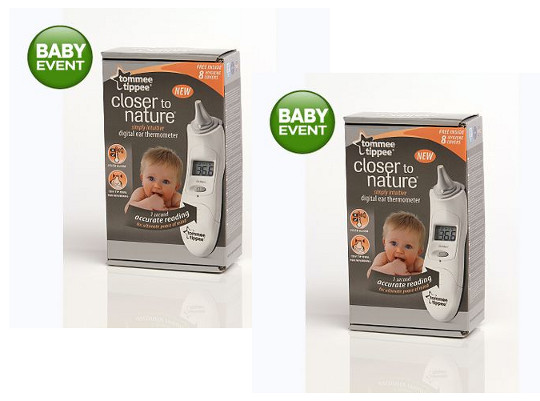 The Tommee Tippee Digital Ear Thermometer at Asda is currently £10 instead of £2o, with free Click and Collect or £2.95 delivery as standard.
I have a problem with most thermometers I've used, if I'm honest, because they seem to have vastly different readings for the same child at every reading, even one that's moments apart. If thermometers are to be believed, my two year old goes from 35.4 to 39.3 in the time it takes to reset! I've yet to find a thermometer where this is not the case, so I'm quite intrigued by this one. The things is, this thermometer gets really very good reviews, but every now and then someone comments that that's the case here too. At £10, it's worth trying, but I must admit at £20 it wouldn't be in my book!
The Tommee Tippee Closer to Nature Digital Ear Thermometer has a tiny tip making it ideal for newborn babies, but apparently it can be used on adults too. The 'selling point' for this one is that it has a one second reading, which is much more useful with babies than a minute under the arm!
The fever alarm alerts when the temperature is too high, and it also has a memory store for 9 readings. You can choose for it to display in Fahrenheit or Celsius. If you ever need to use the thermometer on someone else, it also comes with 8 disposable hygiene covers.
Thanks to missgem at HUKD