TODAY ONLY Up To 50% Off Childrenswear Starting From £1.49 @ H&M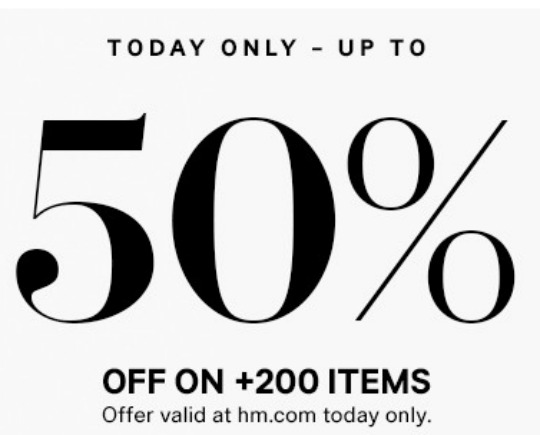 GET OVER TO H&M AT ONCE! Seriously, they have up to 50% off childrenswear and most of it is indeed half price. It's not one of those sales that says up to and has one item that qualifies for the maximum discount, nor is it full of last season's rejects. This is their current stock. How do I know this? That would be because I put in a massive order three days ago.
My top choice out of the whole sale is the two pack of girls' tops*, now only £4.49 and you can choose from Doc McStuffins, Hello Kitty, My Little Pony or Minnie Mouse. There's plenty available as I type this but they won't be in stock for long. Sizes from one and a half right up to ten years old.
Needing some knitwear for your kids? Well check out this girls'  "Cat's have fun" jumper* for only £5.99. For the little men, I like this fine knit boys' jumper* now for only £7.49.
There's even shoes! Check out these boys' basketball "Converse" lookalikes* for only £3.49 or these girls' sparkly shoes* now only £4.49.
H&M even do their own Paul Frank range for kids, here's a Paul Frank T-shirt* for those cheeky monkeys. Guess how much? ONLY £4.49!
Delivery from H&M is a flat rate of £3.90 so fill your boots, guys and BE QUICK!