Kids Wellies £6 @ John Lewis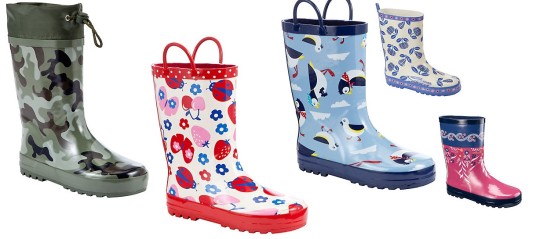 Karen and I were just sitting here at HQ discussing the kids wellies on sale at John Lewis for £6, when we came to the conclusion that there's never a bad time in the UK to buy wellies - so far so good for the summer, but lets not jinx it, right?  Well, making sure you're fully prepared for wet weather is one way to make sure it stays dry (I hope!).
There are loads of other styles too, but these are the £6 ones.
I didn't grow up in the UK and I'd never worn a pair of wellies until I got here, so I'm easily impressed with the range of options in boots, especially for children. I love those with the handles, like the Ladybird ones - they're so easy for the kids to get on - and I love those that tie on the top - perfect for puddle jumpers!
A lot of the lower sizes here are sold out, and most of them start around the (kids size) 8 or 9 mark, but hopefully you'll be able to pick up what you need for the next few months!
Thanks to mobjw at HUKD