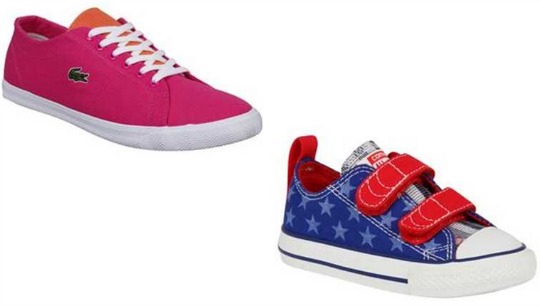 In case you didn't know USC are owned by Sports Direct, so that might explain why the layout of their site looks so familiar. If you want a cheap pair of shoes for the kids then USC is a good option. Have a look in their sale section and you will see a plethora of children's shoes. 613 to be precise. Each pair is discount and you can grab a pair from as cheap as £3.
Shoes are a great expense to us parents so when we spot them cheap we share our bargains with you. USC have plenty of footwear that is priced low so much so that you can afford to buy them two pairs. USC are mostly known for selling brand name clothing and shoes and these are included in the sale too.
These Converse Booties Sets* are well worth their £8 price tag. I bought them for Daniel (my youngest) and boy do I wish I had done so for my older two. These stay on babies feet and fit so much better than other baby socks. Plus, they have the added bonus of looking like a shoe.
The Converse All Star V2 Trainers* for £15 reduced from £30. You have to agree that's a super price.
Home Delivery costs £3.99 or collect in store for the same price but you will receive a £5 off voucher if you pick this option.