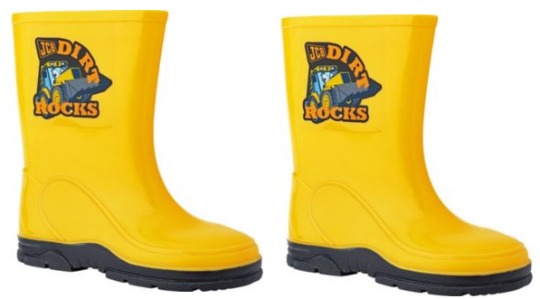 My goodness, the weather is absolutely horrendous, here today. Wet, windy and wild! It's day like this that you need to weatherproof the kids for the walk to school or nursery. Check out these very affordable JCB Boys' Yellow wellies, half price at Argos. They were £8.99, and are now only £4.49. Ideal, if you are wanting a cheap pair.
The JCB Boys' Yellow wellies come in junior sizes five to nine, and there's plenty of stock available across the United Kingdom. I made sure of that! They are chunky enough to withstand boisterous, little monkey wearing them but not cumbersome.
I like the bright yellow colour, as although it's not luminous, it's most definately more visible on rainy, grey mornings. These have a motif on the side that says "Dirt rocks". I think that's the life motto of many a child. There's a cute picture of a JCB too.
You can reserve and collect the JCB Boys' Yellow Wellies from your local Argos for FREE, and you don't have to pay for them until you collect. Delivery is available at a charge of £3.95.
Thanks to edandhen @ HUKD