Discounted Hunter Wellies @ The Hut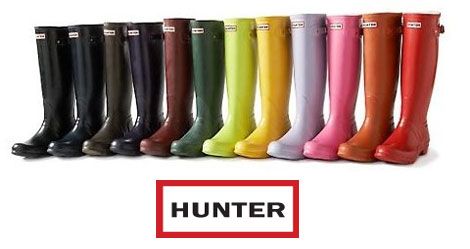 With the discount code I have tucked away in my virtual pocket, you can buy discounted Hunter wellies for at least 20% less than their retail price at The Hut.
Discount code: HUNTER20
Discount: 20%
Applies to: Hunter Wellies
Expires: 31 May 2011
Click HERE to hunt down some Hunters at The Hut
"Hello my name is Sarah and I'm a wellie snob"
It's true, you won't catch me dead in wellies that aren't Hunters; I've had several pairs during my wellie-wearing lifetime, my current pair are red.
If you've never worn a pair of Hunter wellies you don't know what you're missing; they're comfy, last for YEARS but they are expensive compared to normal cheapo wellies.
If you want to break into the world of Hunters, need a new pair, or are looking for discounted Hunter wellies so you can replace in advance and save yourself some cash look no further!
There are already some discounts applied to various pairs of Hunter wellies at The Hut, some have 2% taken off, others 8% and some of then none at all.
HOWEVER, enter HUNTER20 into the discount code box at the checkout and 20% will be whipped off for you; awesome.
Discounted Hunter wellies...I'm telling you, this is like Christmas come early!
Thanks to king_iang at HUKD