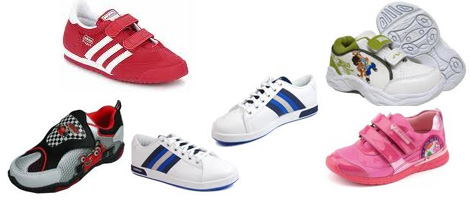 If your little one needs a new pair of shoes, or trainers, you can bag yourself up to 40% off selected Clarks kids shoes at the moment.
I don't know why I'm still surprised that my kids' shoes all cost the same as mine...if not more!
It doesn't matter if I'm buying pairs of the 16-year-old or the four-year-old, my bank manager still weeps in the corner. The only comfort to be found is in the knowledge that all other parents in the shoe shop are feeling my pain.
So when an (up to) 40% discount on Clarks kids shoes comes up, it seems daft not to have a look; it's nearly half price and I'm definitely up for half price anything!
There is a nice selection of little trainers for both boys and girls included in the sale and, being Clarks, you know that they're going to be good quality. Most of the trainers have been reduced down from £25.00 to £15.00.
Clarks shoes I've bought for the toddler and teenage years end up not fitting anymore whilst still looking brand new - pesky kids will insist on constantly growing, I wonder when they're going to stop it? *sigh*
Now Clarks, beign the responsible shoe shop won't let you order kids shoes and deliver them to you; you order online and then go to the store to collect them and a member of staff will make sure they fit properly.
My advice, order a couple of different sizes and widths based on  your child's current shoe size (if you see what I mean). You don't have to pay anything online, so there's no need to worry about paying for three pairs of shoes in advance and having two refunded later.
Happy shoe shopping!
Thanks to lovesbargains over at HUKD!