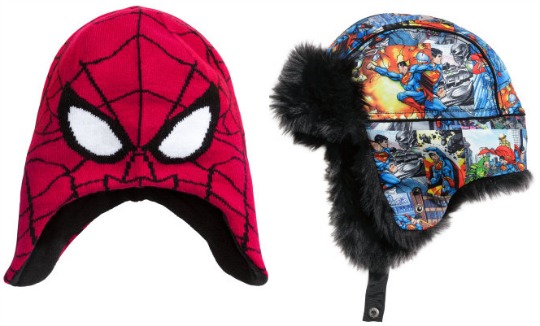 Last years hats and gloves too small, or not to your little one's taste any more? Head over to H&M this morning and get up to 50% off selected kids' accessories. If it's a little girl you are looking for then you are out of luck as there's only one or two pieces included. The variety of boys' stuff is amazing, and the selection of hats in particular is super.
H&M is very popular in my house, it's trendy enough for the boys' approval and it's good enough and cheap enough for mine. You will find me raving about them on here because even at full price, they are cheap, factor in the reductions and you are onto a winner.
My baby Daniel has this Robot Knitted Hat* and we paid full price for it. Let me tell you, it's worth every penny and it's now only £1.99. We get stopped all of the time when he is wearing it and asked where we bought it from. Daniel loves it too as it's SO cosy and super quality.
Marvel fans will love this Superhero Patterned Hat*and matching Mittens* at just £3.99 each.  The hat is lovely and it's fur lined with earflaps to ensure little ears are kept out of the cold.
Have a good look if you are after some extra little gifts for Christmas, just remember you must place an order of £6+ or else H&M don't send it out.
Thanks to IzuniaM @ HUKD