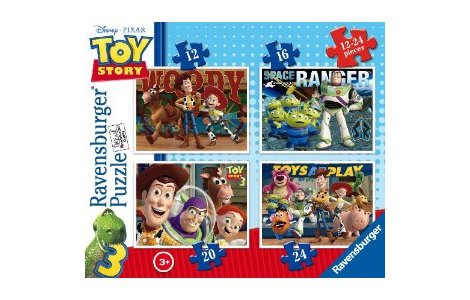 Amazon have a rather nice little deal on this 4 in a box Toy Story 3 puzzles.
If you are a regular PlayPennies reader then you'll know that I'm a BIG fan of jigsaw puzzles, they are fabulous.
I sat and did one with my youngest the other day and it was just lovely.
Whenever I tried to put a piece in the wrong place he'd say, "No mum *sigh*, it doesn't go THERE! That piece goes HERE!" it was just too funny, and amazingly satisfying to think back to how things were when he first started doing puzzles – you know, trying to force shapes into places they have no business being!
There are four Toy Story 3 Puzzles in this box and each one measures 19cm x 14cm.
Each one has a different number of pieces - 12, 16, 20 and 24 - so your child can move on to the harder ones when the fewer piece ones become too easy.
These Toy Story 3 puzzles will help to develop skills such as pattern recognition, memory, imagination, logic and  fine motor skills. And, let's not forget, they're FUN too!
The rrp for these Toy Story 3 puzzles is £5.99 but Amazon are currently letting them go for £2.99; a lovely little post-Christmas bargain.
Thanks to christopherguy25 at HUKD