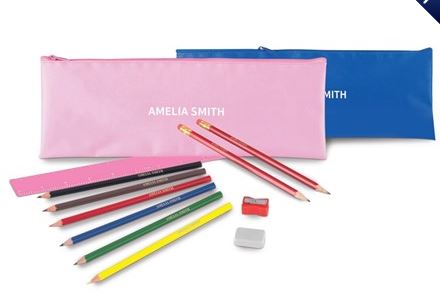 Studio 24 have a great offer on personalised giant pencil cases, filled with goodies for back to school - I know, we're not even in the holidays yet, most of us, but order it now and it's done!
I think this is such a lovely idea! It totally cuts out the middle man, or the crazy mum with a label maker. Bonus.
What you're getting for your £2.99 is a large pencil case with 6 personalised colour pencils, 2 personalised graphite pencils, a sharpener, an eraser and a 30cm (12") ruler, so basically the basics you need to get started - at least about all you needed when I was in school. Things may have changed.
The personalisation allows up to 29 letters, including spaces, which should cover the majority of names, I suspect.
You can choose between pink and blue, which will affect the colour of the pencil bag and the ruler, it seems, going by the picture.
Personalisation is added free of charge, which is nice, and shipping will cost you a flat fee of £4.99 in the UK - annoying for such a low cost item.
Thanks to hippyhelen01 at HUKD