Jupiter Metal & Glass Desk Reduced From £75 To £19.50 @ Tesco Direct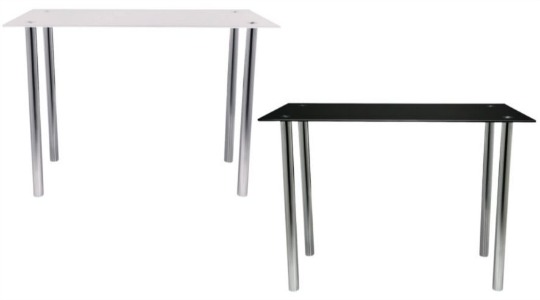 Kids needing somewhere to do their homework? Get them a desk! It doesn't have to cost £££'s getting one either. Sure you could go out and get a second hand one but why do that when you can get a new one for just £19.50? Head over to Tesco Direct where they have reduced the Jupiter Metal and Glass Desk, in both black and white, from £75 to just £19.50. That's a saving of £55.50!! I know, I couldn't believe my eyes either. Got Clubcard Vouchers? These desks are included in Clubcard Boost too, so you could get one for around £10 in vouchers!!!
The Jupiter Metal and Glass Desk has a very modern and sleek look to it. I bet there's a fair few teenager out there that wouldn't mind one of these in their bedrooms.
It stands 75 centimetres tall, 120 centimetres wide and 60 centimetres deep. The glass top is 8 millimetre thick and the reviews on these desks aren't bad at all. The black one is rated higher than the white, which will be down to looks I would imagine.
It's somewhere to study but it can also be used to stick a television and Xbox on too. These desks can take up to a 30" monitor, so that's a reasonable size. We have something similar in our eldest son's room but it cost more than twenty quid.
Delivery costs £7.95 on these but with that massive reduction you won't mind paying that so much.