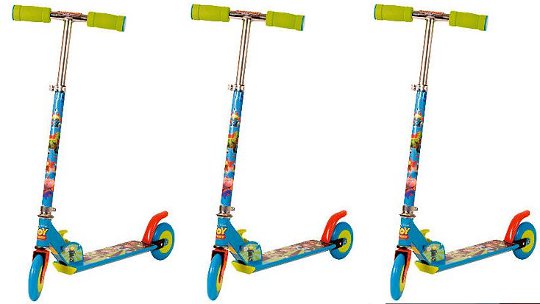 ASDA have a Toy Story Inline Scooter for sale at £10. I'm not sure if that's the usual price or not, but our HUKD folk seem to think it's a great deal.  Delivery is £2.95 for the standard service, or you can collect in store for free.
I'm not crazy about parent-handle free things with wheels – but that's cause I'm mum to a two-year old, and kids seem to be made of bounce-back-rubber! I see so many kids heading to school on these things as they glide past our house with mums and dads practically jogging along, that it must be good for the whole family, right?
The Toy Story Inline Scooter features an easy-grip handle and good-grip foot plate. It folds up easily for storage, which I imagine makes it easier when you end up having to carry it, which I'm sure inevitably happens.
This scooter is also height adjustable to suit your growing child – it goes from 61cm to 87cm and I'm sure would be loved by any Toy Story fan.
Thanks to taraloveslewis at HUKD