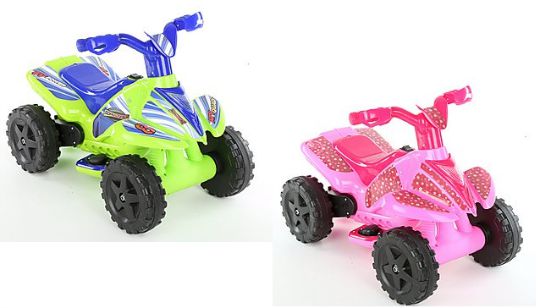 Wow! Electric Ride On Toys generally don't come cheap, that's why we have gotten all in a tizz over these Roadsterz 6v Electric Ride On Quads. They are sold at Halfords and are currently half price, meaning that you can get them for only £35. Now, that to me is a great price. To be honest £70 isn't unreasonable for these if we look at similar elsewhere. As it is over £30, delivery is FREE.
The Roadsterz 6v Electric Ride On Quad comes in a choice of two colours: Green/Blue and Pink. This cool Quad features easy grip handles and four chunky wheels to prevent tipping.
They are powered by a 6V rechargeable battery that should last up to 60 to 90 minutes of driving. Don't worry about your child going to fast as this Quad has a top speed of 3km per hour. Battery and charger included and charging should take any longer than 8 to 10 hours.
You can Click and Collect the Roadsterz 6v Electric Ride On Quad for FREE from Halfords if you don't want it delivered.