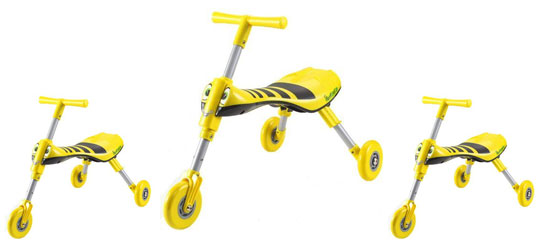 If you're after a funky little ride-on something that's a little different, then you should take a look at this Mookie Scuttlebug - you can pick up a yellow and black one, from Play, for £17.73 rather than £24.99.
We've reviewed a Mookie Scuttlebug - it was a yellow and black 'bumblebee' one too, in fact, and you can read what we had to say about it HERE
The short and sweet version?  It's AWESOME! It's super cute to look at with its funny little bug-eyes and bumblebee stripes; it has a clever fold-up design so he's very small when not being used and easy to store.
Lara, the mum we sent it to to test for us, had this to say about the folding feature...
""The folding action is probably one of my favourite Scuttlebug features; we've managed to fit it into the nappy bag when it wasn't being used anymore whilst out and about."  I said it then, and I'll say it now - either Lara has the biggest nappy bag on the planet or the Mookie Scuttlebug really does fold up into a very small size.
It can also be ridden around on indoors as well as out, and got a very big thumbs up when one of our mums road (and carpet!) tested it for us.
To buy this Mookie Scuttlebug for £17.73 you'll need to add code EASTODD10 to your basket (just in case you thought I'd got the price wrong) and there are no additional delivery charges to pay with UK orders at Play, so £17.73 is all you'll need to pay for your Mookie Scuttlebug.
Thanks to Syzable at HUKD