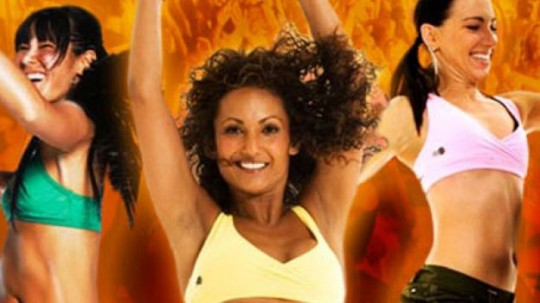 The Zumba Home Fitness package is on sale at the Reader's Digest site for £49.99 but they are currently running an offer where you get £20 taken OFF that price so you only pay £29.99 until the end of September only. As I am on a massive fitness kick and have had to stop running for a few weeks due to injury, I got it. I needed something to keep me fit while I waited for my legs to heal.
The kit comes in a neat storage box with the weights, the DVDs and some booklets. The booklets are well written and have simple, clear advice on how to get fit, lose weight and use the Zumba Home Fitness system. I was very impressed by the fact that the diet plan is not some fad or idiotic starvation thing, but actually a proper way of life with healthy balances between proteins, carbohydrates and fats. If you follow that diet, you will lose weight.
The basic moves DVD will take you an hour to complete. Unless, like me, you get irritated by one particular step that you just cannot do and keep on rewinding the DVD until you get it right. Then it may take a bit longer. As a way of teaching the moves to people, I would say it is clever, clear and concise, but it did make some things a bit overcomplicated to me.
I found some moves easier to do by watching them at high speed and just trying them out until I got them right. I think this is a personality thing, though, and I was impressed with how well they explained the moves and the professional polish of the DVD. The creator of Zumba leads the lessons themselves which include a 20 minute express routine, a cardio party, sculpt and tone, flat abs and Zumba Live.
Each routine left me drenched in sweat and utterly high on endorphins and feeling as if I was as brilliant as the ladies on the DVDs. As with any fitness system you get out what you put in, so if you wave your arms about limply, you won't get any benefits. I threw myself into the system and have found it to be a fantastic way of keeping up my general fitness and burning calories.