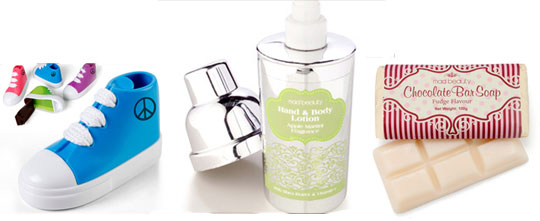 Anything to do with hair, beauty and make up then I'm your girl – which is why I was sent three things from the Mad Beauty Gift range to review.
I like to go into beauty reviews 'blind' – ideally, the first time I want to see what's been sent is when I pull it out of the box or envelope; that way I'm not influenced by any official blurb or marketing spiel.
My teenage daughter was at home when the Mad Beauty products arrived; this was a GOOD thing because I am very definitely NOT the target market for the three Mad Beauty gifts that graced my kitchen table!
Canvas Boot Lip Gloss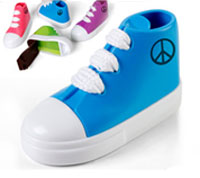 First out of the envelope was a little plastic (not canvas) boot; if you're of a certain age and I said 'Converse High Tops' you'd know exactly what this little Canvas Boot Lip Gloss looks like without having to see the picture.
I have to say it's quite cute – it's laced with real laces, although you can't tie or untie them, they're just for decoration, and underneath there's a detailed brown sole.  I looked at it from all angles; my daughter looked at it from all angles and we were stumped. What exactly were we supposed to DO with it?
There were no obvious clues to suggest what it was for and it wasn't about to give itself away anytime soon.
The actual inside of the boot is hollow, so was it for keeping things in?  We crossed that off the list of possibilities because it's just too small inside to be useful, for anything.
It couldn't be for hanging off your key ring because there's no hanging 'thing' to connect to keys or anything similar.
It took the logical brain of my son to put us out of our misery; he spotted that there's a tiny gap between the edging of the boot and the top of the soul, he lifted it and OPEN SESAME! Inside the soul of the boot was blue, minty lip gloss; who'd have known!
Whilst I'm no fan of the boot packaging – it just seems a bit unnecessary and OTT to me, and definitely not the sort of thing I'd keep in my handbag (but like I said, I'm not exactly the target market) – I'm rather smitten with the lip gloss inside.
It's very fresh; it's not so soft that you end up with a ton of it on your finger tip and not so hard that you need a chisel to get any off. It's cool (in the literal sense) and after a few minutes causes a rather nice tingly sensation on your lips.
It comes in three other flavours too, with each boot having its own colour.
Pros: great lip gloss, leaves lips nice and tingly, funky packaging if you're under 16 years old (my daughter is 16 and she said, "it's cute but there's no way I'd show it in public!")  and would make a fab' little stocking filler.
Cons: terrible packaging if you're over 16, one of the lace bits came out of its eyelet and I can't get it back in which is bugging me immensely.
The Canvas Boot Lip Gloss retails for £2.99 – which is about right I think.
Overall score: 6/10
Chocolate Bar Soap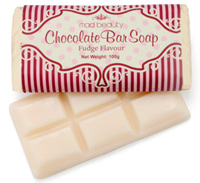 There are few things I'm less impressed by than novelty soap; please someone tell me the point!  I hope no one who's bought me novelty soaps in the past ever reads this, but any I've been given have always either been given away or thrown in the bin.
However, I'm sure chocoholics on a diet will find it mildly amusing to be given a bar of chocolate they can't eat and girls of a certain age will think it's 'cool'.
If you're a grown up with even the slightest hint of sophistication about you, then this Chocolate Bar Soap really won't be for you.
The name gives it away somewhat, this is a bar of soap that looks like chocolate and is supposed to smell like fudge.  This is another reason why I don't like novelty soap like this, WHY would I want my hands to smell like fudge?! I want them smell clean and fresh, not like I've not washed my hands after eating chocolate fudge!
*Must try to be objective*
It's not a small bar of chocolate soap, so it'll last a fair while and you don't use it all at the same time – you break a couple of squares off just like you would if you were going to eat chocolate (I'm assuming you aren't the sort of person who just bites chunks straight off the bar).
In its favour, the chocolate bar soap is okay to use; it lathers up nicely into a thick creamy foam and washes off easily too.  I wouldn't say it smells overly much of fudge, it's a bit nondescript to be honest with you and very quickly forgotten.
Plusses: lathers up into a creamy, thick foam; a potentially funny stocking filler for a chocoholic on a diet
Minuses: doesn't smell of fudge or anything particularly much; non-descript product in a tacky shape and packaging.
The Chocolate Bar Soap retails for £3.99 – I wouldn't pay £3.99 for it; mind you, I wouldn't buy it if it was 99 pence, but only because I'm a novelty soap Scrooge!
Overall score: 5/10 (and only because I'm feeling generous)
Apple Martini Fragranced Hand & Body Lotion
J U S T when I thought I'd seen most things cheap and tacky, along comes the MAD Beauty Apple Martini hand and body lotion.
Even my daughter looked at this and just said, "...No!" and she can be partial to tacky looking tat now and again.
So, this Apple Martini fragranced hand and body lotion is presented, and packaged, in a plastic silver container shaped like a cocktail shaker.
The lid comes off to reveal a cheap plastic pump mechanism inside which dispenses THE most stingy amount of lotion – it took five pumps to get even a modest amount onto the palm of my hand – and it smells FOUL.
I don't care that it contains Shea Butter and Vitamin E, it could be THE most amazing hand and body lotion in the world for all I care – it smells sweet and sickly and will someone please get it away from me!
I dislike everything about this product.  I don't like the alcoholic references – I think it's unnecessary and only serves to glamorise alcohol to teenage girls who are, clearly, the target market here.  No adult in their right mind would even consider it.
The packaging is tacky, cheap and horrible - not the 'stunning addition to any dressing table' referred to on the MAD Beauty website - the whole concept and product is just vile as far as I'm concerned.
Pros: none
Cons: cheap and tacky, smells awful, unnecessary alcoholic references aimed at an impressionable target market.
The Apple Martini Hand and Body Lotion retails for £8.99 - hell would have to freeze over before I parted with money for this; in fact, I'd happily pay someone to take it AWAY.
Overall score: I can't even bring myself to score it
And finally...
I'll be straight with you – I'm less than impressed by the MAD Beauty gift items I received.
The pricing for the Canvas Boot Lip Gloss and Chocolate Bar Soap is about right I think (it certainly couldn't be any more) but, as far as I'm concerned, it's all about the novelty factor rather than producing anything of substance and worth.
The only thing I liked was the lip gloss; what a shame about the daft plastic boot it's packaged in.
If you're happy buying things that will quickly get thrown into a drawer and lost with all the other inconsequential 'stuff', or given/thrown away, then you go over to MAD Beauty and buy some things from their gift range.
Personally, I think your money will be better spent elsewhere.