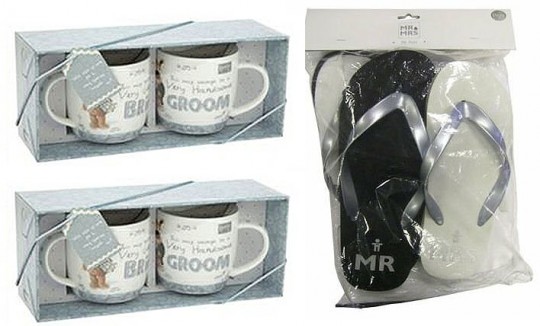 I love a good wedding and I've had more than one of them myself - but I'll be honest with you, the best one of all was the last one where we got married in our normal shorts and t-shirts (it was the middle of Summer in South Africa) with absolutely no frills, no bells, no whistles.
The Home Affairs wedding official did the deed and we had just six immediate members of family in attendance; presents were forbidden, photos and video were taken on iPhones, we treated everyone to lunch and a few drinks on the Waterfront and then all went our separate ways home - it was fabulous.
I've also done the whole wedding sheebang - expensive dress, expensive wedding car, expensive photographer, lots of guests, personalised M&Ms (imported from the USA) and lottery tickets tied with personalised ribbon for wedding favours.  The list went on and on and so did the total cost.
It's VERY easy to get carried away with all things wedding; there's no denying they're lovely and special days and the market for wedding paraphernalia will never disappear.
Clintons sent us a couple of wedding bits and pieces to review and, being the wedding Grinch of the bunch, it was decided I'd best placed to give a straight forward opinion of it all.
Here goes...
Bride and Groom Boofle Mugs

First out of the Clintons wedding bag was a set of Bride and Groom Boofle mugs.
If you've not met Boofle yet then you're in for a treat - he's the CUTEST little knitted bear character, with a button for a belly button, that I've ever come across.
Now I'm not prone to buying soppy teddies for my husband (in fact, I've never bought a teddy for any man in my life...not even when I was a love-struck 15-year-old) but after a visit to Clintons one day I came home with a little Boofle Bear who know lives on my husband's desk at home in South Africa!
The Bride and Groom Boofle mugs come packaged in a robust gift box and retail for £14.99 - I think this is a reasonable price for two mugs featuring the adorable Boofle.
The bride's mug reads 'This mug belongs to a Very Gorgeous Bride' and a Boofle bride is pictured next to the words; the groom's mug reads 'This mug belongs to a Very Handsome Groom' and features Boofle dressed in a tail coat.
The design is printed on both mug sides and whilst they're very lovely, I'm just not sure that they're the sort of thing that the bride and groom will use for years to come.  I rather fear they're the sort of novelty wedding gift that will find its way to the back of the mug cupboard after a few months, only to see the light of tea bag or coffee when all other mugs are in the dishwasher.
But, you know, the mugs are good quality, Boofle is too scrumptious for words and there's nothing wrong with them so I have to give them an overall score of 8 out of 10.
Mr and Mrs Flip Flops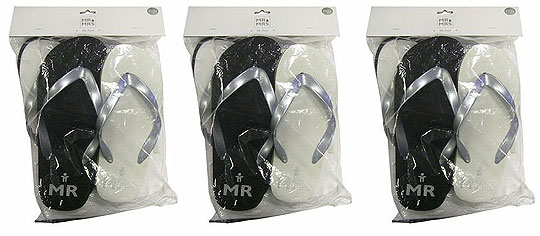 Mr and Mrs Flip Flops are the sort of wedding thing that make me want to scream, but I've belonged to a wedding planning forum in my time and they are SUPER popular with brides who are going to a far-flung beach honeymoon destination.
The Mr flip flops have black soles with MR sprayed in silver at the heel, the strappy bit is also silver (does that part of a flip flop have a proper name?).  The Mrs flip flops are white, with MRS sprayed in silver at the heel and also has silver strappy bits.
The soles of both flip flops have the words MR and MRS cut out of them - when you walk on wet sand they leave a raised MR and MRS print behind.  GREAT, if you like that sort of thing; a complete waste of money, if you ask me.
Now, before you think I'm just slating them for the sake of it - let me tell you a little more about them.
The sizes are standard for both men and women; I've got size five feet and having put on the MRS flip flops I reckon they must be a size eight, as a result I felt I was wearing canoes on my feet not elegant bridal flip flops.
The fact they were so big on my feet made them very difficult to walk in, and I spend a LOT of time in flip flops throughout the year.  The other 'beef' I have with the MRS flip flops, at least, is the white sole - white is a terrible colour for any shoe sole!  Within days you'll have a nice dirty footprint print on them and that is just not very attractive at all.
The Mr and Mrs Flip Flops retail for £12.99 - personally I'd save your money and the (potential) heartache of trying to wrestle your new husband into the MR pair and making him walk in wet sand!
I'm sorry Mr and Mrs Flip Flops, your overall score is just 5 out of 10.
And finally...
Well, I don't know if I can add much else really - if you're a soft and cuddly wedding person then the Boofle mugs will be the way to go for you.
If you want to buy a bride and groom something a bit naff, BECAUSE it's a bit naff and cheesy then the Mr and Mrs flip flops are definitely the way to go (in fact, if this is why you'd consider buying them then I'd reassess my overall score to an 8 out of 10 - but they're still not going to be easy to walk in if the bride and groom have small feet!).
At the moment neither of these items are available online, so keep and eye on the Clintons website and be ready to POUNCE when they do become available.