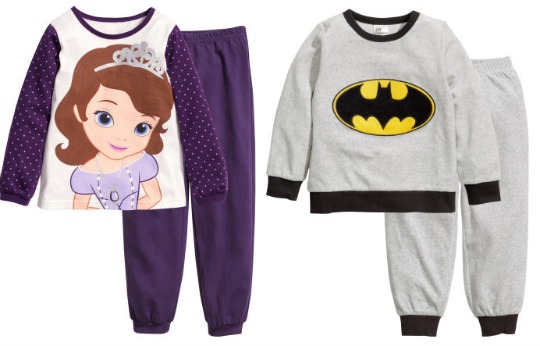 As you all know I LOVE H&M. They are cheap, they are good quality and they do designs that my kids actually want to wear. Today they have 30% off selected nightwear PLUS FREE DELIVERY when you use H&M order code 2925. Just pop that code in at the checkout.
Oh the choice is GREAT! A few feature those children's favourite characters like Sofia The First*and Batman*. The Sofia ones are just £6.99 (delivered when you use code), and the Batman ones are velour and are now only £8.99 delivered.
These Jersey Pyjamas* are only £6.99 delivered and come in a choice of six different designs, and all of them are awesome. You can pick from Kermit the Frog (my fave), Paul Frank, Angry Birds, Cars, Looney Tunes and Marvel Comics. These will go down a treat with any child and they are an absolute bargain.
If that lot aren't cheap enough there's these Jersey Pyjamas* for just £5.59. Bear in mind you must spend a minimum of £6 for H&M to deliver. There's NINE designs to choose from but they are all pretty cool.
I can say it certainly worth a look, if you are after some pyjamas for Christmas Eve.