Little Tikes Mobile Push 'n' Ride Car Review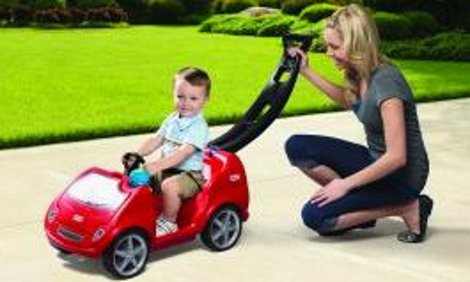 I was first introduced to Little Tikes long before I ever had my own child, when my god-daughter turned up at a restaurant for breakfast one day, and I have absolutely loved them ever since. I love that the child has freedom to move in this alternative to a pushchair.
But, as ever, it's really the opinions and experience of the PlayPennies panelist mums that counts, and this time Ling has agreed to share her thoughts with us.
Ling was really excited to try the Tikes Mobile as she had been in the market for a push along vehicle that her one-year old would " find more engaging than being strapped in his pushchair".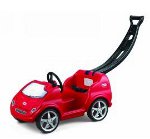 She discussed with friends and tried a few popular types but found that there tended to be problems with steering, which was a big turn-off for her. "This was important for me as I was planning to take said vehicle for walks in parks."
Upon arrival already, things were looking good for the Tikes Mobile, says Ling. "Even without a steering wheels or normal wheels on, he happily sat in the body of the car."
"Assembly of the car was straightforward. The instructions were entirely pictorial so once you had worked out what each of the diagrams represented, it was very easy to follow." Ling told us. "I managed, with some difficulty, to put this together on my own but if you had another person (even a child, who just needs to be able to hold the car level while you attached the wheels to the crossbar/ chassis) the assembly would have been very easy, only requiring a bit of strength to hammer the pegs that hold the wheels in place"
Although the car comes with instructions for attaching the seatbelts and handle-securing belts, Ling's car came with everything already attached.
Ling also gave us great insight into the child's experience of the Tikes Mobile.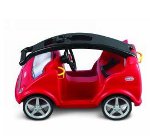 "I found the steering wheel a bit low and far for my son to reach although maybe it is because he is a bit short. For the most of it, he was happy to be pushed around and watch the world go by with an unfettered 360⁰ view."
It might be worth noting, however, that the seat belts are really just fasteners so stop a child from falling out of the vehicle, says Ling. " Looking at the marketing pictures though, it seems like a bigger/ taller child should be able to fit into this with no problems"
There is no suspension or breaks, so Ling suggests keeping on paths and even surfaces, although the Tikes Mobile does handle slightly bumpy roads rather well. Ling felt that the ride did seem quite comfortable for her son.
"There were a few inclines where we went and I found that it was unnecessary to go downhill backwards although you just have to have a firm hand on the car to make sure it did not roll away" says Ling. And since steering was such an important factor of her, we wondered what she thought of the steering in the Tikes Mobile.
""Steering" is easy in as much as you pretty much lift the front or back end via the parent handle (either by pressing down or lifting, respectively) and then pivot the vehicle. You don't need too much effort to do it and makes the vehicle more manoeuvrable than you would first think."
"This car has no steering mechanism apart from the parent pushing it so you don't wind up fighting against something to move it in a particular direction."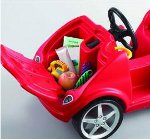 Ling was also quite impressed with the design and manufacturing of the Tikes Mobile. "With the idea of taking this little car out in mind, they have designed it with hard wearing wheels and a foldable parent handle (to fit into the a car for transport)."
She was a little skeptical at first as to whether it would fit in the boot of her Ford Fiesta, but it went in with room enough for a changing bag and a bit of shopping.
The main downside to the little car it seems, was that the parent-handle, which locks in either 'use' or 'store mode, didn't seem to lock quite as well in 'use' mode. This mode is supposed to prevent the handle from coming down on top of the child while they are in the car, but Ling didn't feel it was as robust as the rest of the vehicle.
AND FINALLY....
Ling's overall impression is "that this car is very sturdy, right down to the wheels.  I wiped ours down after the zoo outing and the wheels are only slightly scratched up.  I imagine this will see us through plenty more outings come the summer."
The Mobile Push 'n' Ride car comes in , and is made of a high-quality, durable plastic body with a wide seating area and good floor space.
Mobile Tikes are available on the Little Tikes website for around £50.00