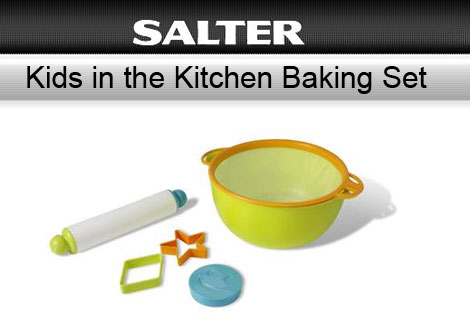 I've yet to meet a child who didn't love helping to cool and generally spend time messing around in the kitchen.  But little hands can sometimes find it hard to get to grips with our grown-up sized utensils and equipment so we asked Lynley and her youngest son to review a Salters 'Kids in the Kitchen' baking set.
"When the postman arrived with a box wrapped up in brown paper, my son nearly died of happiness. It is easy to forget how exciting a parcel in the post is at the age of five!" Lynley told us, when she sat down at her desk at PlayPennies HQ.

"By the time I'd closed the front door there was simply a trail of ripped brown paper leading from the hall to the kitchen!" ahhhh the enthusiam of a youngster and brown paper packages, albeit one not tied up with string.
The Salter 'Kids in the Kitchen' baking set contains a mixing bowl, a large double handle sieve (you can't beat double handled sieves for small people, or big people for that matter), a rolling pin and three cookie cutters.
"As the parent, I was very disappointed with the contents," Lynley confessed, "there seemed to be more air in the box than items, and it didn't contain anything that you probably haven't already got in your kitchen anyway."
Now you may recall seeing Lynley and her son in action in the kitchen before, they valiantly attempted to roll out Father's Day cookies cookie dough with a sherry bottle due to not owning a rolling pin, well REJOICE! because now their household has a rolling pin in their kitchen arsenal...
"Oh the rolling pin! That was a welcome item and means I don't have to use the empty sherry bottle as a de facto rolling pin anymore. That is, if my son will let me use it. He is being very proprietary over his dishes!" sighed Lynley.
Even though Lynley was a bit disappointed with the contents of the box, her son thought it was the most wonderful thing he'd ever seen.  Although he's only five, Lynely tells us that he's been a keen baker since he was able to sit on the kitchen stool and hold a wooden spoon.

"He loves it!" Lynley told us, "and this baking set seems to have been designed just for him. "Ooooh my own dishes!" he repeated, about twenty times looking at each one over and over, and has since told every person who has come into the house that he now has "my own dishes!" before pulling them out to show them off proudly."
The Salter 'Kids in the Kitchen' baking set comes with a vanilla cookie recipe for you to creat using your new kitchen tools and equipment.
"Before you open the set, it is probably a good idea to make sure that you've actually got all the ingredients," advised Lynley. "My son nearly went into melt down when he couldn't start baking straight away as I needed to go to the shop for butter!"
Butter bought, our dynamic mum and son kitchen duo were ready to bake!
"Once we got all the ingredients together, I was delegated to assistant status," Lynely recalled. "I had to stand next to him, where he normally stands to assist me. I was only allowed to provide a little guidance when needed because you see "these are MY dishes Mummy"."
HA! You've got to love it when kids get all bossy...well, when they're not yours getting all Gordon Ramsey on you in the kitchen!
And finally...
"Overall I would say it was a success. However, I think that I could have achieved the same result letting him pick out his own baking dishes at the pound shop instead of the £14.99 this baking set retails for!" concludes Lynley, "and strangely enough, when it came to doing the washing up, 'his' dishes suddenly became 'my' dishes."
Now that's a smart five-year-old head chef right there - bake, boss everyone around whilst totally LOVING your own equipment, then go off and do something else whilst your kitchen assistant washes up!