Liz Earle Men's Face Scrub, Cleanse & Polish Review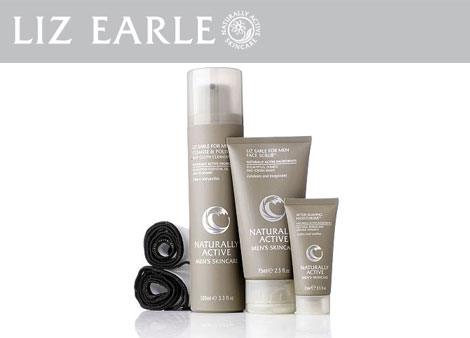 Father's Day is just one and a half weeks away; it's on Sunday 19 June and if you've been stuck for ideas then this Liz Earle Men's Face Scrub, Cleanse and Polish review might give you some inspiration.
It's taken a long time for men and skin care routines to become comfortable bedfellows, and there are still hardcore guys who flatly refuse to go anywhere near anything vaguely resembling moisturiser.
Fortunately for us we have PlayPennies dad Simon on hand, he got wise to the benefits of skin care years ago and was more than willing to put some Liz Earle products for men, sent to us by QVC, through their paces on our behalf.
The Liz Earle Men's Face Scrub, Cleanse and Polish set contains Men's Cleanse & Polish (100ml), Men's Face Scrub (75ml), Aftershave Moisturiser (15ml) and two muslin cloths; at QVC it retails for £23.20.
I saw the products before they were sent off to Simon and was interested to hear what he thought of the packaging.
"I was relieved when I saw the packaging for the Liz Earle products for men," says Simon, "It's subtly manly without a bulldog, or garish colour, in sight which makes a refreshing change."
Cleanse and Polish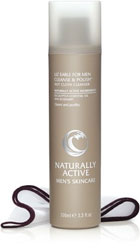 The Cleanse and Polish cleanser is suitable for all skin types and has a two-step process which promises to clean away dirt and  the excess oils that build up, block pores and cause spots.
"The hot cloth cleanser is great," Simon reveals, "it's lovely and creamy and easy to apply.  Then taking one of the muslin cloths, dipped in hot water and wrung out, you rub off the cleanser."

"It leaves your skin feeling clean, relaxed and refreshed - although at times with my shaved head I did feel like I was polishing a bowling ball!"
The Cleanse and Polish cleanser is mineral oil free and it's 'Naturally Active' ingredients include eucalyptus, to purify, and cocoa butter for smooth skin.
Face Scrub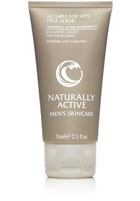 The face scrub can be used one or twice a week after cleansing and/or after shaving - it can help prevent ingrowing hairs apparently - but it's not suitable for sensitive or damaged skin.
"The scrub leaves your skin feeling clean and seriously smooth to the touch," Simon tells us, "Like most scrubs it has rough bits in it but they don't feel like they're shredding your skin whilst you're massaging it in!"
Now I rather like that, but I understand feeling like you're rubbing sandpaper on your skin isn't everyone's cup of tea.
The rough bits in the Liz Earl Face Scrub for Men are actually tiny bits of pumice stone and jojoba beads.  It also contains eucalyptus to cool the skin.
After-shaving Moisturiser
Finding the perfect moisturiser can be a bit hit and miss; some can be a bit watery, others too heavy, some can smell horrendous and others have far too much of a scent to them.
The Liz Earle After-Shaving Moisturiser claims to be light, easily absorbed whilst being very effective at the same time.
Simon certainly agreed.
"I really enjoyed using the after-shaving moisturiser," he says, "it really was easily absorbed and left my skin feeling moisturised without that horrible oily feel you can get sometimes."
Don't be put off by the small size of the moisturiser, Simon says you don't need to use much at all as a little bit goes a very long way.
The Naturally active ingredients in the After-Shaving moisturiser include self-heal extract (I have NO idea what that is, but it sounds like it's a good thing to have in there) to help soothe small nicks and calm razor burn plus borage to help moisturise
Naturally Active

There is a very strong natural and environmental ethos behind all of the Liz Earle products.
They describe themselves as a botanically-based beauty company doing their upmost to keep their environmental impact down, whilst not compromising on product quality.
They won't settle for anything but the highest quality naturally active ingredients, which have to be ethically sourced, and try to ensure they're certified organic too.
Liz Earle are also committed to making sure that as much of their packaging is made from already recycled material and can be re-recycled.
Simon told me he feels the Company's efforts to go green and be a environmentally responsible and ethical manufacturer hasn't compromised the products in any.
If anything, he was surprised they weren't more expensive as a result.
And finally...
All of the Liz Earle products were a big hit with Simon.
"All of the products had a very pleasant neutral fragrance; it was light and fresh without being perfumed." Simon explains, "The whole system is quick and easy to use too."
"In the past I have mainly used L'Oreal for Men but I'd switch!" concludes Simon. "Liz Earle has a popular Facebook page where fans can get promotional offers and extra product information - I 'like' Liz Earle for Men!"
Liz Earle Men's Face Scrub and Cleanse & Polish @ QVC