Leapster's Tag Activity Storybook Review

Leapfrog's Tag Activity Storybook range brings stories to life by providing interactive reading, questions and games, all through an infrared camera which recognises letters, words and symbols on the page of a Tag book.
When we asked PlayPennies mum-of-one Tara if she'd like to review the Leapfrog Tag Activity Book, she was really excited. She had played around with one at an expo before and thought the whole idea was just brilliant.
We sent her the Scooby Doo Halloween book, for children aged 5-8 and this is what she had to say:
"I love Scooby Doo and this was as much a treat for me as for my tot. The voices are spot on too! Every single page can take anything from 10-20 minutes depending on what you feel like doing (or your child feels like doing). You can read each word, you can get the tag to read the page for you, you can play games, or you can touch the tag to almost every image on the page and it makes a noise/names it."
Tara found the Tag system to be a really good educational tool too. She told us that she used it after school to help her daughter with her letters and with learning how to read by using the tag to read each individual word instead of just letting it read the whole story.
As much as she loved the Leapfrog Tag system, she did have a few fiddly moments. "Firstly", says Tara, "a problem we had was that my tot didn't quite grasp that if she touched the tag to something while it was reading out a story, it would stop reading. Also, some of the puzzles were hard. Even I struggled to keep up with the game on the last page where you have to touch different parts of the castle to get Scooby home safely."
Other problems Tara pointed out were the battery life – she recommends using rechargeable batteries as they will work out much cheaper in the long run, and wonders why a USB charger is not included. "It would be a great way to save money/environment/pennies while still keeping it an ace toy," says our mum.
Another negative is the initial process to get started. Tara tells us that it takes a long time to load your book and set the system up. "You have to use your PC and it demands that you create an account, download this update and that update, which took me about 30 mins from first inserting it all the way to finally downloading and activating the book. You have to download the voices into the Tag after you've bought the book, you see so it is a bit tedious. You have to have a PC on hand to get started."
So what is Tara's overall impression of the Leapster Tag?
"Overall I would give the book 8/10 for pure Scoobiness and the tag system 7/10 for awesome use of technology. Brilliant educational fun."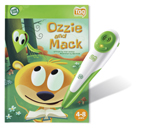 And finally...
The Tag system which costs £39.99, comes with the Tag and a book titled Ozzie and Mack, but additional books based on characters from Cartoon Network and Nickelodeon channels such as Go! Diego, Go! and Sponge Bob Square Pants can also be purchased.
It's a great use of technology, educational to the nth degree, and well worth every penny spent in entertaining the kids at home on cold afternoons, or long trips away over Christmas. As a Christmas present it really does sit at the top of the pile for genius.